Prepare
Prepare the nail.
Test for fungus.
Form treatment plan.

Laser
Laser the nails.
12 minutes per foot.
2-8 sessions.

Review
Review at 3, 6 & 12 months.
We follow a simple and effective procedure to deliver clear and healthy nails.
Confirm fungal infection.
A five minute lab test using a nail sample will be conducted to confirm that the changes in your nail are due to a fungal nail infection.
Discuss your plan.
We'll run you through all of the details on the treatment and what you should expect, as well as take some photos for future comparison.
Prepare your nail.
This is the primer to great results where we reduce the thickness and length of the affected nails.
Treatment time!
Your feet will be individually exposed to cold laser for 12 minutes per foot. You won't feel a thing and are welcome to read, catch up on your emails, or update your instagram story with your laser procedure.
Treat and repeat.
You'll return for a treatment session every week for 4-6 weeks. There's no downtime or recovery period between sessions.
Review.
You'll be reviewed at 3, 6 and 9 months where you can expect plenty of smiles as we look at your healthy, clear growth lines. We'll also perform a fungal lab test to confirm the death of the fungus.
Home Care
You'll receive information to help you care for your feet and shoes at home. It is imperative that you follow these protocols precisely to ensure you get the best results from the treatment and minimise your risk of reinfection. While cold laser kills the fungus present on your nails at the time of treatment, it is your responsibility to manage the fungus in your home environment.
You will also have the opportunity to purchase home care products to assist your management of your nail fungus at home, and help reduce your risk of re-infection.
Questions
Our expert team are just a phone call away to answer any questions you may have. Depending on the observations at your reviews, we may adjust your treatment plan accordingly to get you the best results.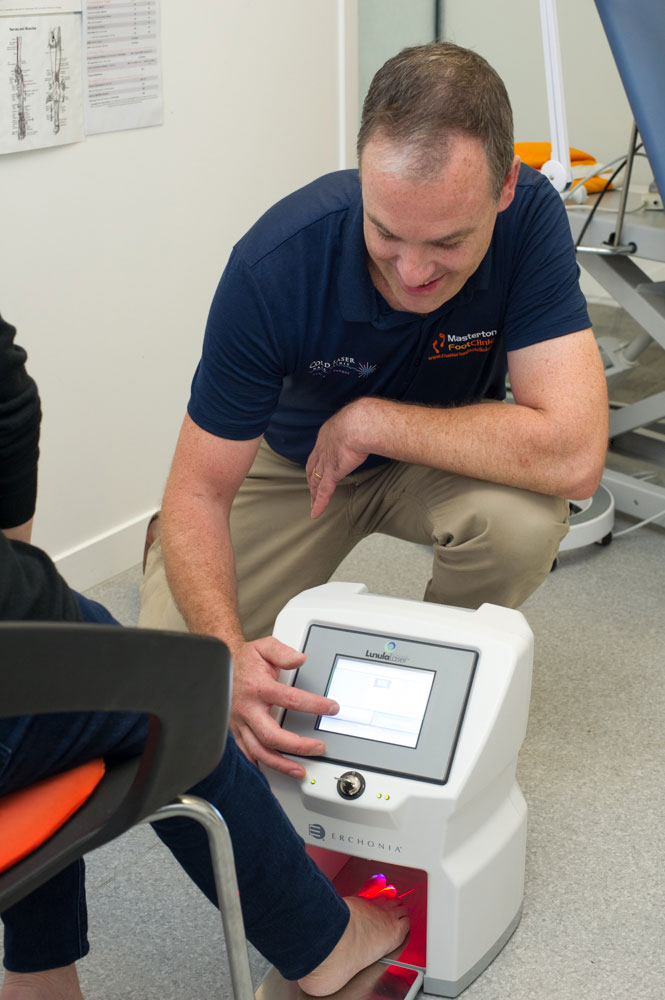 Costs
Laser sessions are $129 per session and can last up to 24 minutes.
Note: this excludes the initial consultation, any tests or additional products as recommended by your clinician. Prices are valid as at March 2020 and are subject to change without notice.